I've spent the last few days relishing in the feeling that arrives with this glorious season of fall. For me that feeling is one that evokes adventure, the desire within to be out experiencing nature in all it's glory, soaking in the beauty of the changing colours, bearing witness to the leaves floating softly to their winter resting place.  It is here where the leaves and pine needles serve as a soft carpet that seeks to inspire my senses even further. I love the rustling sound that is initiated with each step and I am truly in awe of this natural transition and the parallels that seemingly exist within my own life. In the spring a sense of rebirth, an embracing of newness and in the fall a melting away of whatever is no longer serving me. These changing seasons serve as an ever present gentle reminder of all that is and all that was and all that will be.   Life is truly a gift of deeper inquiry. The sights and smells and sounds……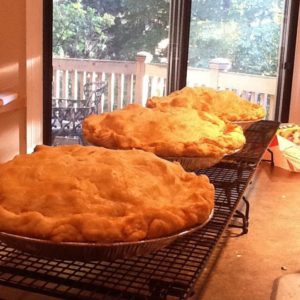 From a physical perspective, in fall,  I am called to warm myself with thick bulky sweaters and cute knitted caps and to fill my belly with warm teas and honey, soups and stews and indulge in a slice of apple or pumpkin pie or two……
You see I have this imperishable commitment with myself,  a deep understanding with my body that I will give it what it asks for and in return it will guide and support me.  It is an integrative approach to life. My body serving my soul as a vessel in this human experience. Pumpkin pie and all.
I am mindful of my body's yearnings specifically around food and I respond with love. I reach for that last piece of pumpkin pie and while there was once the presence of guilt and shame in doing so, there is now a sense of peace, a space that has opened up, a chatter of warning that has simply been extinguished and I sit in gratitude.
I am all that I need.  And arriving at the notion of I am all that I need demanded me to bring an understanding as to why I would deny myself something my body was asking for. Why I would frame my abstinence beginning with the words 'I shouldn't…. or I can't'……
Did I have a belief that my physical appearance was my conduit to receiving love and where did that originate from? In inquiry with others I hear 'my loved ones are ashamed of me and my size.' I hear, eating the 'pumpkin pie' will make me big which leads to ugly which leads to being unloved. I am gutted.
You are all that you need.
It's the energy we attach to these 'pieces of pumpkin pie'. that make them 'not good for us' or make us 'unloveable'.  The pumpkin pie in this paradigm being a metaphor for all things you deem unhealthy.
Green juice does not make me loveable.
My body asks for it, and yet it does not make me loveable.
What energy, what old belief are you attaching to the food you ingest and where is this influence coming from? I invite you into the crucible with me, one that opens up to deeper understanding, followed action and finally the gift of observing how things unfold. How the leaves (guilt and shame) fall away and serve to protect the foundation (your health) beneath you. It is an evolution of getting stronger. The space is only expanding as I write.
With love (and sweetness),
Tammy Price
~ Enjoying my blog? Visit me here, scroll down,  and sign up for direct deposit into your inbox. There is a complimentary gift awaiting each new subscriber ~
Disclaimer: The views and opinions expressed in this article are those of the author and do not necessarily reflect the opinion, position or view of The International College of Medical Intuition